Books by Doug - All Rights Reserved - 2012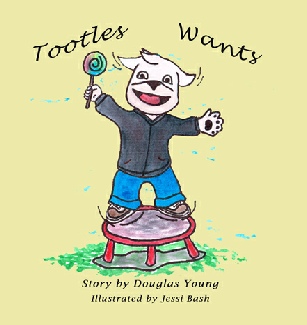 List Price - $12.95
25 Full-Page illustrations in full color
8.5" by 8.5" format
62 pages
It all started one day when Tootles went clothes shopping with her mom and she saw the cutest hat. Tootles wanted it. "Mom," pleaded Tootles, "I want that hat." "No, Tootles," said her mom, "You can't have it today."
Tootles was a little disappointed, but she didn't complain. She just thought, "Well, maybe I'll see something I want tomorrow, and when I do, I'll ask for it."
The next day she went to the hardware store with her dad and she saw a really neat hammer and screwdriver set. Boy, the things she could do with them.
"Daddy," she said, "I want them." Her dad said, "No, not today," and once again Tootles was a little disappointed but she just thought, "Well, maybe I'll see something I want tomorrow, and when I do, I'll ask for it."
Now Tootles see lots of things wherever she goes. Things of different sizes and shapes. And, everything Tootles sees - Tootles wants!
Follow this link to preview a few
of the illustrations in the book